The Scarsdale Business Alliance(SBA) invites all members to participate in its new 'Dale Dollars eGift Card program.
The cards can be purchased by anyone, and then printed, or sent virtually to friends, family, teachers, etc. for any occasion. There is no cost to the SBA or the individual merchants. There is a small fee that the purchaser pays, just like an Amex gift card.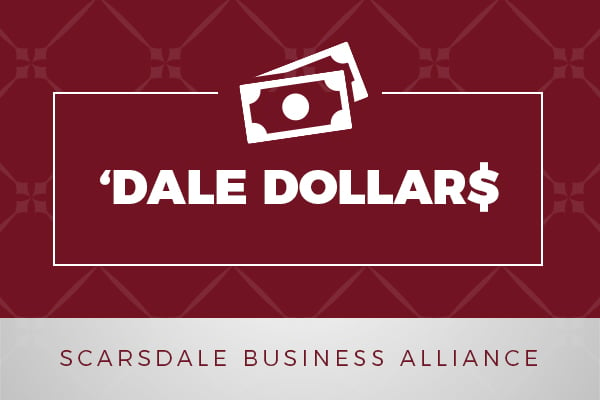 Why Participate?
Drive more business into your store
Keep customers spending local
Cards can ONLY be used at participating SBA merchants
No special technology or admin required to participate (Must accept Mastercard and be able to key in the transaction like a phone order)
No back-office administration – Funds are automatically paid to you, via your usual Mastercard processor
There is no fee to participate!
Who Buys Community Cards?
Customers buy them online and give them as gifts, thank yous, etc. to support local businesses.
Local companies use them for employee rewards, customer appreciation, marketing and other programs
Realtors and other professionals use them to appreciate their customers and prospects
How 'Dale Dollars eGift Cards Work (5 Simple Steps)
SIGN UP through the Scarsdale Business Alliance by filling out the merchant form (only SBA members are able to participate)
RUN AN "ACTIVATION CARD" as a digital Mastercard on your POS to join
ADVERTISE the 'Dale Dollars eGift Card using your own marketing and PR channels
REDEEM GIFT CARDS as customers come in with their 'Dale Dollars eGift Card on their phone (or printed)
GET PAID as usual by your Mastercard bank. Mastercard will authorize the purchases
'Dale Dollars eGift Card FAQ's